I am now offering Pallet Art to my customers. Pallet Art is, for me, wall hangings made from industrial pallets. Pallets are used in industry to place things on, and move them around with a tow motor, also known as a fork lift.
Our art is made from clean pallet wood that has been power washed and cleaned before the art work begins.
All of the pallet art is unique since each piece of wood is different, although the art work remains the same.
Below are some examples of the work we have done. We have some standard designs listed below. We can do custom designs to what you want, but our standard is a white background, black highlights, and then the design on top of the base coat. All artwork is the top-coated with a clear glaze.
Please email us with your design and for the price. We will email you a quote.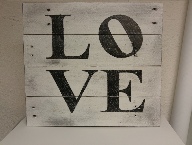 "ANCHOR" 15" x 13" $30.00
"BADGERS" 15" x 13" $30.00
"LOVE HEART " 15" x 13" $30.00
"SHOREBIRDS" 15" x 10" $30.00
"MORNING FOG" 32" x 25" $65.00